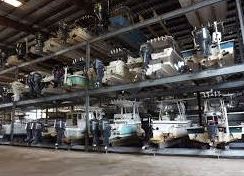 Rose Point Marina offers premier independent boat service and maintenance as well as winter boat storage services in the Parry Sound District. We cater to all makes and models of boats, boat engines, boat trailers, outdrives and more. When the colder months roll around, contact Rose Point Marina for all your winter boat storage needs, as well as:
Rose Point Marina is the premier service provider for BRP, Volvo Penta and Mercury as well as other makes and models of boats. We honour Mercury and Volvo Penta warranties.
Parry Sound Winter Boat Storage
When you need to store your boat, you can't go wrong with Rose Point Marina's unparalleled professional storage solutions. A boat is a valuable investment, which is why it requires the best services as well as the highest quality winter boat storage.
We offer a range of options, including:
Indoor Boat Storage in spacious, heated spots with 24 hour security.
Covered Boat Storage, guarded by security.
Outdoor Boat Storage with access control.
In/Out Boat Storage to keep your powerboat protected when it is not in use.
We offer a wide range of storage equipment to safely bring your boat out of the water and transport it to your chosen storage facility.
**Speak to Rose Point Marina about our dockage service, which is available from April 15th to October 15th. Be sure to book your spot in advance to avoid the summer rush.**
Winter Boat Storage, Services & Maintenance
Need work done on your boat during the winter months? That's no problem. The highly qualified and helpful staff at Rose Point Marina can arrange access to your boat at any time. Additionally, our in-house team of boat specialists can assist with any repairs and restoration services you require.
From shrink wrapping your boat to winterizing the inboard motor, outboard motor and freshwater systems (holding tanks, drain water tanks and toilet).
When you contract Rose Point Marina for winterizing your boat, we follow a comprehensive winterizing checklist that meets the criteria of all major boat manufacturers' owner's manuals.